SUPPORT YOUR PROSTATE NUTRITIONALLY
Order Now
‍
Supports a Healthy Prostate
‍
Supports Healthy Urinary Flow
‍
Supports Urinary Health
What is Prostate Plus?
With age, a large portion of American men begin to appreciate the idea of support for their prostate. This approach can signal maturity about their health and wellbeing. VitaPost Prostate Plus formula is made with modern and traditional ingredients, and is designed to provide nutrients in support of your prostate. The combination of vitamins, minerals and herbal extracts found in VitaPost Prostate Plus may support urinary health, healthy urinary flow, and the overall health of your prostate.
With ingredients seen in:
Benefits of Prostate Plus
‍
Support For A Healthy Prostate
Supplementing your diet with Prostate Plus can help your body support a healthy prostate, along with supporting your overall health. VitaPost Prostate Plus provides nutritional ingredients such as plant sterols, green tea extract, tomato powder, quercetin, pumpkin seed, and much more.
‍
Supports Healthy Urinary Flow
Saw palmetto is a palm that grows in the southern coastal regions of the United States. It produces in abundance a large reddish-black drupe (berry) rich in beneficial plant compounds such as vitamin E and antioxidants. The saw palmetto berry has a long history of traditional use by Native Americans for their urinary tract.
‍
Supports Urinary Health
The ingredients in VitaPost Prostate Plus work together synergistically to support urinary health. This support is bolstered by the vitamins in red raspberry powder and the properties of three types of Japanese mushroom extract.
Order Now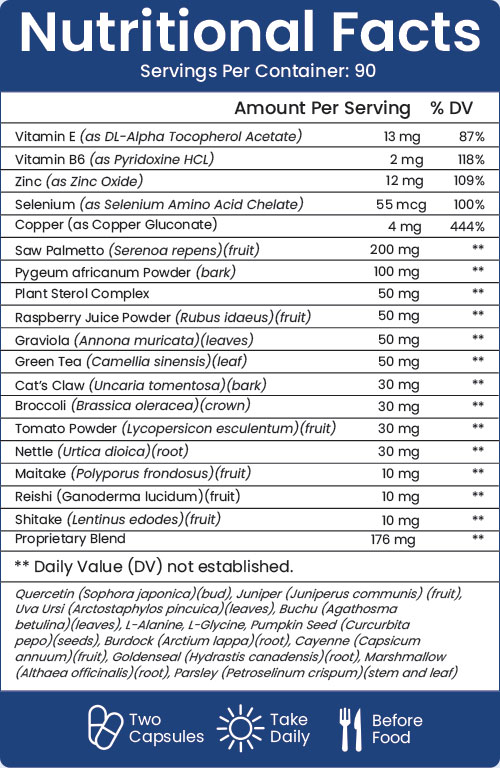 Prostate Plus Ingredients
VitaPost Prostate Plus is made with a broad range of modern and traditional ingredients.
Vitamin E
‍
‍
‍
Oxidation is a naturally occurring process that happens in the body throughout our lives, and it is something to be mindful of. Vitamin E is an antioxidant, defending against free-radicals and oxidation. Vitamin E is otherwise an important vitamin for the function of many organs in the body.1,2
Pygeum Africanum
‍
‍
‍
Pygeum Africanum powder comes from the bark of the Pygeum tree. It has shown promise in a number of scientific papers for support of a healthy prostate.3,4
Saw Palmetto
‍
‍
‍
Saw palmetto is a palm native to the Southeast and Gulf Coasts. Saw palmetto has been used traditionally as herbal support for urinary tract and hormonal applications since the 1800's. Although some studies show benefits for support of the prostate, more research is needed to confirm and elucidate its effects.5
Green Tea
‍
‍
‍
Green tea is widely consumed for its antioxidant properties. It has well-known cultural significance as a beverage, but its use as an extract and supplement has also been explored. Green tea extract is renowned for its antioxidant potential.6,7
Cat's Claw
‍
‍
‍
The native Amazonian herb known as cat's claw is commonly used in natural supplement blends. Traditionally, cat's claw was used for the immune system, joints and overall general health, but science has not yet confirmed its effects. Cat's claw has antioxidant properties, and can help to fight free-radicals and oxidation.8
Nettle
‍
‍
‍
Stinging nettle is an herb that has been used for hundreds of years for a variety of applications. It loses its sting when cooked or made into supplements, and can be consumed safely with numerous potential health benefits.9,10
Testimonials from our customers
Don't just take our word for it, thousands of customers have experienced the results for themselves and this is what a few of them had to say:
Already a customer? Write your review now ‍
‍
I'm Feeling Better ! -
LOI C. K.
Finally found a product that have all the nutrient I need. Starting to feel the effect in just a week of usage!
‍ Yes, I would recommend this product
‍
I've tried a few other products but this one really works. No more getting up at night to go and can make road trips long before stopping. Love it, but take it with food to avoid nausea.
‍ Yes, I would recommend this product
‍
less nightly restroom trips -
John
trips to restroom were cut in half.this should be plenty of information for you ...i think you're getting a bit too much into my business
‍ Yes, I would recommend this product
Click here to read all reviews.
Professional opinion
The ingredients inside VitaPost Prostate Plus have been exhibited in many forms of mainstream media and from research clinics and organizations.
"When taken as a dried supplement or an oily liquid extraction, saw palmetto appears most effective in daily dosages of 160–320 mg"
Published by Healthline, April 2019
"Pygeum has also been shown to contain a wide range of fatty acids, alcohols, and sterols such as beta-sitosterol that have an antioxidant and anti-inflammatory effect on the urogenital tract."
Published by Medical News Today, March 2018
"Zinc is present in all the body's organs and fluids, but the prostate has a higher concentration than any other tissue except bone."
Published by Harvard Medical School, March 2006
FAQs
‍Taking Prostate Plus
Do I need a prescription for Prostate Plus?
Prostate Plus is available for purchase without a prescription.
How do I use Prostate Plus?
Take two (2) capsules once a day. For best results, take 20-30 minutes before a meal with an 8oz. glass of water or as directed by your healthcare professional. 
Do not exceed recommended dose. Pregnant or nursing mothers, children under the age of 18, and individuals with a known medical condition should consult a physician before using this or any dietary supplement.
I don't enjoy swallowing capsules. Do I have any other options?
While the Prostate Plus capsule can be taken apart and absorbed in your favorite drink or food, we would not recommend this due to the taste. As this capsule contains compact powder, we would also not recommend splitting the capsule in half and attempting to swallow the halves.
Can I aid prostate problems with Prostate Plus?
Prostate Plus is a dietary supplement designed to nourish and nutritionally support prostate health. Prostate Plus is not a cure, treatment or preventative for any disease or medical condition. If you have any concerns about the health of your prostate, you should talk to your healthcare professional.
‍Shipping, Sizes and Quantity
What are my delivery options?
We have global distribution to 20 countries worldwide. This list of countries is available in the first step of checkout.
Orders are processed immediately and shipping depends on which option you choose:
| Description | Price |
| --- | --- |
| USPS - Standard (3-5 business days) | $4.95 |
| USPS - Second Day (2-3 business days) | $9.95 |
| UPS/DHL/USPS – Tracking International (12-15 business days) | $9.95 |
How many capsules are in 1 bottle of Prostate Plus?
Prostate Plus contains 60 capsules in every bottle. This is equivalent to a 1-month supply.
How big are the capsules?
The capsules are a standard 0 size, which is less than an inch long (22mm). Most people consider this size easy to swallow.
Can I return my unopened bottles of Prostate Plus?
Yes, we stand behind this supplement 100%, so we're more than happy for you to return your unopened bottles of Prostate Plus within 5 months of purchase.
Voluntary returns are valid at our sole discretion. Any reimbursement will be determined by the total number of bottles (including free bottles) you received, the number returned, and the total product cost to you. See our Return & Refund Policy for more details.
‍Ingredients and Restricted Diets
Is Prostate Plus free of common allergens?
Prostate Plus contains soy. This product is manufactured and packaged in a facility which may also process milk, wheat, egg, peanuts, tree nuts, fish and crustacean shellfish.
For uncommon allergens, please check the ingredients list.
Is Prostate Plus a vegan product?
Yes, Prostate Plus is a vegan product.
‍Certification and Manufacturing
Are these certified by the FDA?
The FDA does not certify dietary supplement products, such as Prostate Plus. However, Prostate Plus is manufactured in an FDA registered facility that follows GMP (Good Manufacturing Practice) guidelines.
Where is it manufactured?
Prostate Plus is manufactured in the US from quality imported and domestic ingredients.
Nourishing Support for a Healthy Prostate
Take care of your body's nutrition. Try Prostate Plus today and get support for your prostate's health.
Limited time offer,
buy 3 and get 1 free! ‍